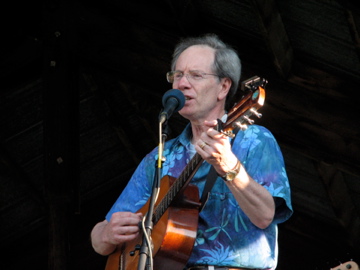 Neal Gladstone:
Neal Gladstone grew up in a musical household where everyone in the family played the piano. He studied violin as well, and performed with his high school symphony in Stillwater, Oklahoma.
He learned to play the guitar his junior year while living with his family in India. He spent the next nine months lifting rock and roll songs from records and getting award-winning callouses from his Sears guitar.
On his way home, Gladstone bought a guitar at the workshop of Carlos Montoya in Madrid. Then, back in Stillwater, he formed a folk trio and wrote his first songs, which from the beginning showed what would become his signature wit and peculiar perspective.
Music helped him work his way through college, playing in rock bands. Though he earned his degree in psychology from the University of Chicago, he claims to have majored in the Beatles. Graduation brought the reality of the draft, so during the Vietnam War, he kept a deferrment by he teaching vocal music in the Chicago public schools.
As soon as his draft eligibility ended, he quit teaching to devote himself full time to writing music. The band was an artistic success, but a financial flop, as original music often is. Weary of living in squalor, Gladstone returned to graduate school. There he met his wife-to-be, Barbara, also a teacher.
The two moved to Oregon in 1977. When a local band needed a keyboard player, Gladstone took up rock and roll once again. This band was a financial success, but there was little room for original music on the tavern circuit. Three years later, disillusioned and weary, he once again decided to go back to teaching private piano lessons.
In 1980, he met vocalist Audrey Perkins, who urged him to form his own band, perfoming only original music. He rented small halls and began to do concerts in his home town to ever-growing audiences.
In 1985 he and Perkins partnered with public radio's Fred Child, whose instrumental virtuosity and versatility complemented Gladstone's lyric-intensive writing. In 1987 the three wrote and produced a 13-week original music and comedy radio show on Oregon Public Broadcasting. Four 13-week series were eventually produced. There were broadcast on Oregon Public Broadcasting, KLCC in Eugene, and Seattle Public Radio. (Fred Child has the host of NPR's "Performance Today.")
San Francisco-based Kaleidoscope Records signed Gladstone to a record contract, releasing "Sleep Neat" in late 1988. Since then Gladstone has produced five albums of original material. His group has played to enthusiastic audiences all over the Northwest including Bumbershoot and the Britt Festival. His compositions have aired on NPR's "All Things Considered", "Car Talk", "Weekend Edition", and "Dr. Demento."
Preferring writing to performing, Neal & Co. perform only a couple times a year, in the Willamette Valley area.